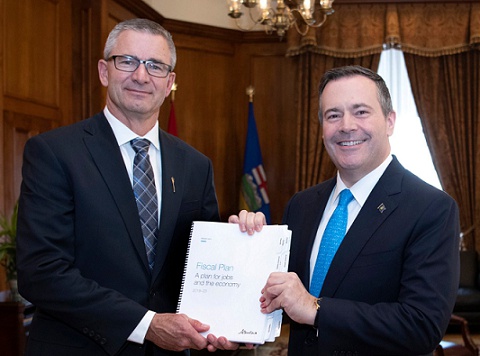 Alberta Finance Minister Travis Toews and Premier Jason Kenney
Cuts coming for post-secondary, municipal grants
Highlights from budget 2019
The freeze on tuition is to be lifted but capped at seven per cent to a maximum 21 per cent over three years. Student loan interest rates are going up from prime to prime plus one percentage point.
Alberta plans to build or retrofit 25 schools over the next four years.
The province plans to combine the Alberta Child Benefit and the Alberta Family Employment Tax Credit into a single Alberta Child and Family Benefit.
The application fee for the Alberta Immigrant Nominee program is set at $500. It was previously free.
Edmonton, which as the provincial capital, has the most government buildings, will see a $15.3 million cut in 2020-21. Calgary, by comparison, will only see a $5 million reduction
Tobacco tax
The tax on a carton of 200 cigarettes will be increased $5 to $55 per carton, effective Oct. 25, 2019.
Tax on loose tobacco will rise 3.75 cents to 41.25 cents per gram.
The tax rate on cigars will go up from 129 per cent to 142 per cent.
These changes are expected to generate $45 to $55 million per year in revenue.
Considering vaping tax
The province also intends to implement a tax on vaping products.
As part of a review, the government will explore approaches to bring this tax in, with more details expected in the 2020 budget.
Using jurisdictions in the U.S. for context, revenue on a potential vaping tax would likely be under $10 million annually.
Considering tourism levy for short-term rentals
Short-term rentals (STRs) like Airbnb, HomeAway and VRBO are becoming increasingly popular but aren't currently required to pay the four-per-cent tourism levy.
The province intends to bring in legislation in spring 2020 that would require STRs to pay the levy, bringing them in line with other short-term accommodation rentals.
Renewing your vehicle registration
Starting this year (2019-20), it will cost $5 more to renew your vehicle registration.
The $80 annual fee will hold steady for 2020-21.
The cost for RVs or campers will go up to $150 from $100 in 2018-19.
Visiting a museum
The cost to visit the Royal Alberta Museum or Royal Tyrell Museum will go up next year. In 2020-21, one adult admission will cost $21 (up from $19) and a family pass will cost $50.
Windspeaker.com will have more details on the 2019 Budget next week and what it means for you