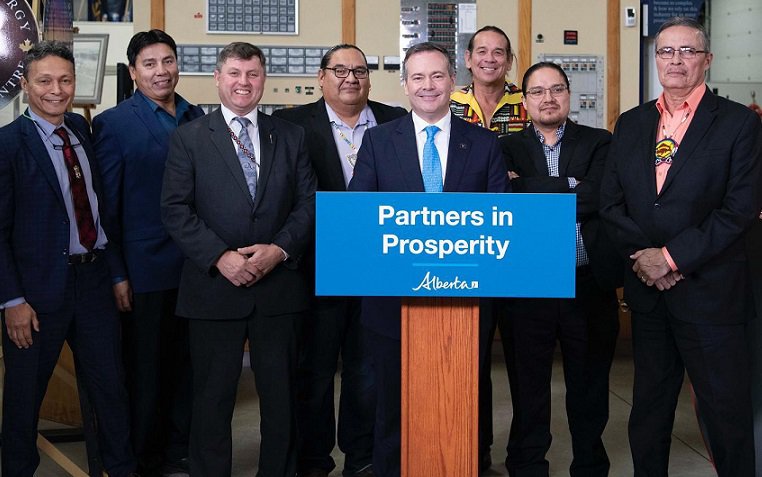 A ministerial advisory committee led up of local business leaders will guide the corporation's beginnings.
The United Conservatives have introduced a bill that says the government would put up $1 billion, along with technical and financial advice, to backstop the Crown.
Premier Jason Kenney says it would be a new way of doing business with First Nations, focusing on partnerships led by the arms-length Crown agency rather than "picking winners and losers."
On Tuesday, leaders from Enoch Cree Nation, Treaty 8 and Siksika Nation attended the province's news conference and praised Kenney and the UCP for creating the crown corporation.
This is Siksika Nation Chief Joe Weasel Child
Chief Billy Morin of the Enoch Cree Nation said the corporation is needed so that First Nations can participate in the provincial economy in an environmentally responsible way.
"The government didn't fidget around for three years in a committee trying to get it right. They just did it, and we'll be better for it for many generations to come.'"
A ministerial advisory committee will guide the corporation's beginnings and is currently seeking AIOC board members, including a chair and vice-chair.
Sitting on the committee are Nicole Bourque-Bouchier, a business leader, philanthropist and advocate for Indigenous women's economic empowerment, First Nations Bank of Canada CEO Keith Martell, Aroon Sequeira, founder of a western Canadian corporate finance advisory firm, and Mac Van Wielingen, founding partner of Calgary-based ARC Financial.
The AIOC is expected to be running by spring 2020.