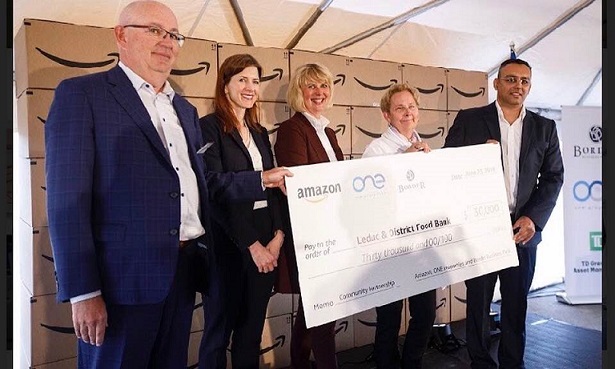 The event saw Amazon present a $35,000 cheque to the Leduc & Region Food Bank
On Tuesday afternoon, Amazon held an event to celebrate a construction milestone on the construction of its one million square foot customer fulfillment centre that is expected to open in Leduc, in spring 2020.
The sneak peek hosted key government officials, including Minster of Economic Development, Trade and Tourism, Honourable Tanya Fir; and Mayor of Leduc County Tanni Doblanko.
Guests were able to view the current construction progress of the site and see first-hand the positive impact it is already making on Alberta's economy.
The project currently employs approximately 100 workers and will increase to 200-250 workers during the final construction project phase before Amazon employees move in. Upon completion, the facility will provide a combined total of 600 jobs to Albertans.
"Amazon's investment in Alberta will create hundreds of jobs and provide much needed investment in our economy. We look forward to many more similar investments in our province as our government takes action to renew our economy and get Albertans back to work," said Tanya Fir, Minister of Economic Development, Trade, and Tourism.
This facility will specialize in handling larger customer items such as bicycles, hockey sticks and patio furniture.
In a statement, Amazon chose the region due to it's large workforce, proximity to air and rail hubs, low non-residential tax rates, and business-friendly policies, as its second Alberta home. Balzac, just outside of Calgary, is the other location for Amazon's distribution centre.
Amazon says when finished, the Leduc County facility will be the size of about 21 regulation-sized football fields.
The facility will become Amazon's 11th Canadian location when it opens its doors next year.