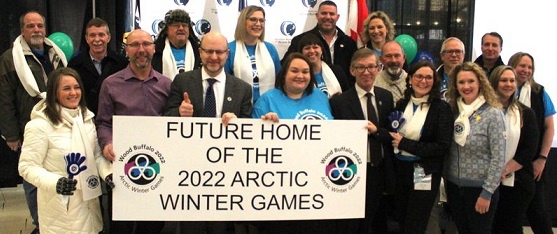 The deadline to apply to volunteer is Oct. 11 at 4pm
Applications can now be submitted to volunteer to serve on the 2022 Arctic Winter Games Host Society.
The municipality is looking for volunteers to be Director of Sports Facilities and Director of Sponsorship and Fundraising.
The Host Society was formed after the municipality was awarded the right to host the Arctic Winter Games.
It will plan, develop and deliver all aspects of the 2022 Wood Buffalo Arctic Winter Games.
Organizers say between 2000 – 3000 volunteers.are needed
Proposed sports that were included in Wood Buffalo's bid include:
Alpine Skiing
Archery
Arctic Sports
Badminton
Basketball
Cross Country Skiing
Curling
Dene Games
Dog mushing
Figure Skating
Futsal (Indoor Soccer)
Gymnastics
Hockey
Short Track Speedskating
Ski Biathlon
Snowboarding
Snowshoe Biathlon
Snowshoeing
Table Tennis
Volleyball
Wrestling
In addition to sports, the 2022 Arctic Winter Games will also include numerous culture activities and social events. The Opening and Closing Ceremonies will ​feature local performers who will showcase Wood Buffalo's rich and diverse culture!
Apply to be a volunteer here