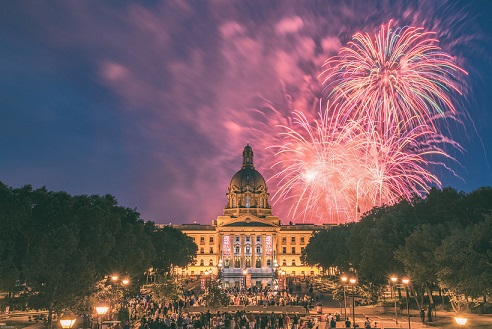 Check out Many fun family events filled with music, dance and art exhibitions, taking place across the province
Edmonton
Alberta legislature grounds will host activities including:
Canada Day Road Race to support cancer research, 7 a.m.
Pancake breakfast, 7 a.m. to 10 a.m.
Citizenship ceremony, south bandshell, 10:30 a.m.
Opening ceremony, legislature building front steps at noon.
Legislature building open house, 12:30 p.m. to 5 p.m.
Alberta family fun zone, south grounds, 12:30 p.m. to 5 p.m.
Alberta Diversity Stage events, south bandshell, 1 p.m. to 5 p.m.
Alberta Discovered Stage, Capital Plaza, 12:30 p.m. to 9 p.m.
The Works Art & Design Festival, Capital Plaza at the Legislature Grounds, 11 a.m. to 9 p.m. Admission by donation to free family exhibits and programming.

The Edmonton Valley Zoo will be open on Canada day from 11 a.m. to 4 p.m. and celebrating its 60th birthday with a scavenger hunt and live music.

The Art Gallery of Alberta is offering free admission on Canada. Bring the whole family to check out the exhibitions and art activities.
Strathcona County
Canada Day at Broadmoor Lake Park in Sherwood Park is Strathcona County's biggest annual festival! It all begins at 9 a.m. with a pancake breakfast and the fun and activities go all day long. This is a family focused event
St. Albert
A pancake breakfast kicks things off at 8 a.m., and activities continue throughout the day. Bouncy castles, games, vendors and live entertainment are available all day, ending with the fireworks display at 11 p.m.
Cold Lake
Fun run, pancake breakfast, parade, volleyball tournament, band, children's activities, magic show, pony rides, fireworks and live entertainment from The Washboard Union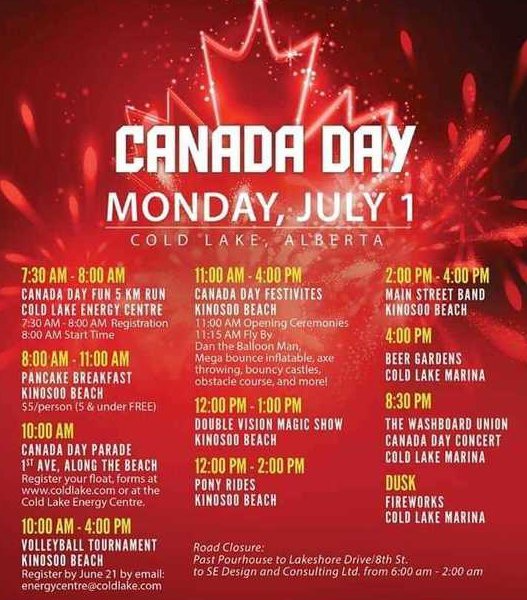 Grande Prairie
Activities get underway at noon at Revolution Place, which play host to the Canada Day Carnival. There will be carnival rides, entertainment, local food trucks set up to get the party started. All rides and entertainment will be moved inside the Bowes Event Centre and Revolution Place. The food trucks will be parked outside on the H.A. Rice Plaza
Time: 12:00 p.m.- 6:00 p.m.
Canada Day Parade
Location: Downtown
Time: 1:00 p.m.- 2:30 p.m.
Details: Each year 100+ floats march through downtown Grande Prairie to celebrate our national holiday. This year's theme is "Canadian Pride". Judging categories include: Best Costumes, Best Homemade, Most Child-friendly, and Most Patriotic. An annual Parade Marshal Award is also given out for the best overall float.
This year, the parade returns to its traditional route. It starts westbound on 108 Avenue at 94 Street in Hillside neighbourhood, turns south on 96 Street, west on 100 Avenue, then north onto 106 to disband in the Grande Prairie Regional college parking lot.
Canada Day Celebrations
Location: Muskoseepi Park
Time: 2:30 p.m.- 6:00 p.m.
Details: Official opening ceremonies commence around the amphitheatre stage with introductions and dignitary speeches. Live entertainment on two stages will follow as well as food and community vendors, children's activities, face painting and the signature Canada Day giant cake.
The Grande Prairie Museum and Heritage Village will also be open, featuring carnival games and a kettle corn fundraiser by WINMAR with 100% of proceeds going to support the museum.
Canada Day in Wood Buffalo
Parade, Live Music, Food, Kids events and more!
MacDonald Island Park, Fort McMurray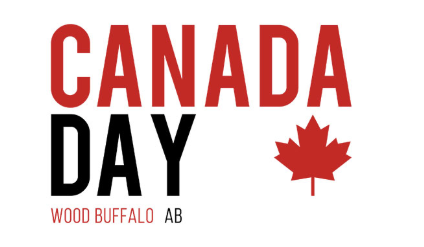 Enjoy the 29th annual Mill Woods Canada Day Celebration in Mill Woods Park!
1-11pm
More than 50,000 attend this FREE event that celebrates our Canadian heritage with multicultural performances, displays, activities and music that reflect the diversity of the community.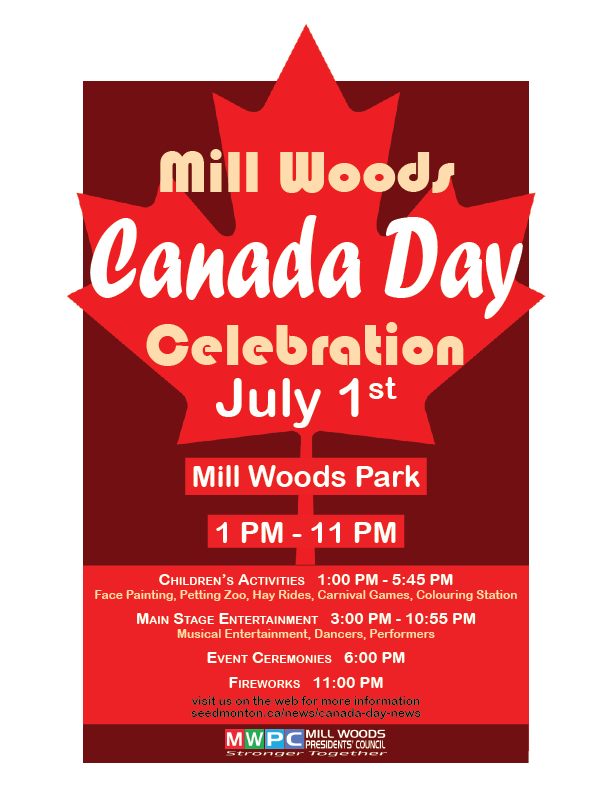 FREE ENTRY to Elk Island National Park on July 1
Spend the day with nature, and channel your inner adventurer by exploring over 80 km of trails, looking for iconic Canadian wildlife such as moose and beavers, or paddling around the islands of Astotin Lake! After spending the morning wildlife watching, enjoy a flag raising ceremony at the Astotin Lake Recreation area and join a summer program! Summer has officially started and the park interpreters are ready with guided activities for all ages!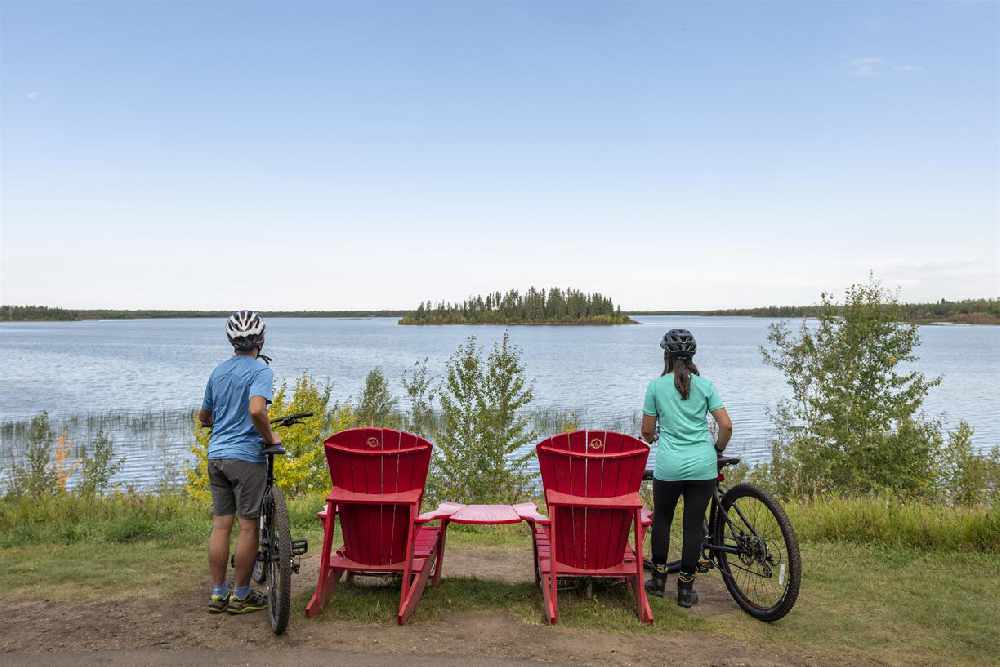 Celebrate Canada Day in St Albert
St. Albert Legion Pancake Breakfast, Live Music, Kids fun and more!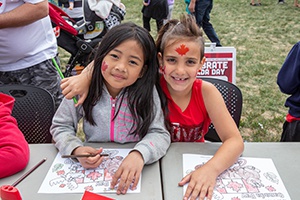 Town of Gibbons
Pancake Breakfast, Flag Raising Ceremony, Burgers n Fries, Kids Corner and more!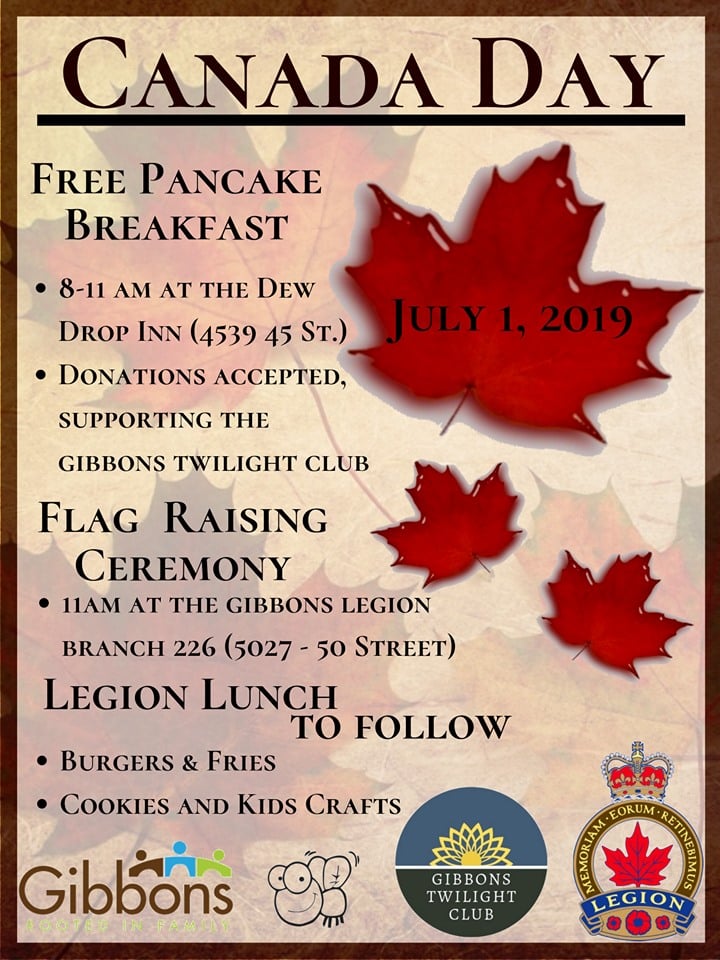 Wrap up the day with Canada Day Fireworks across Alberta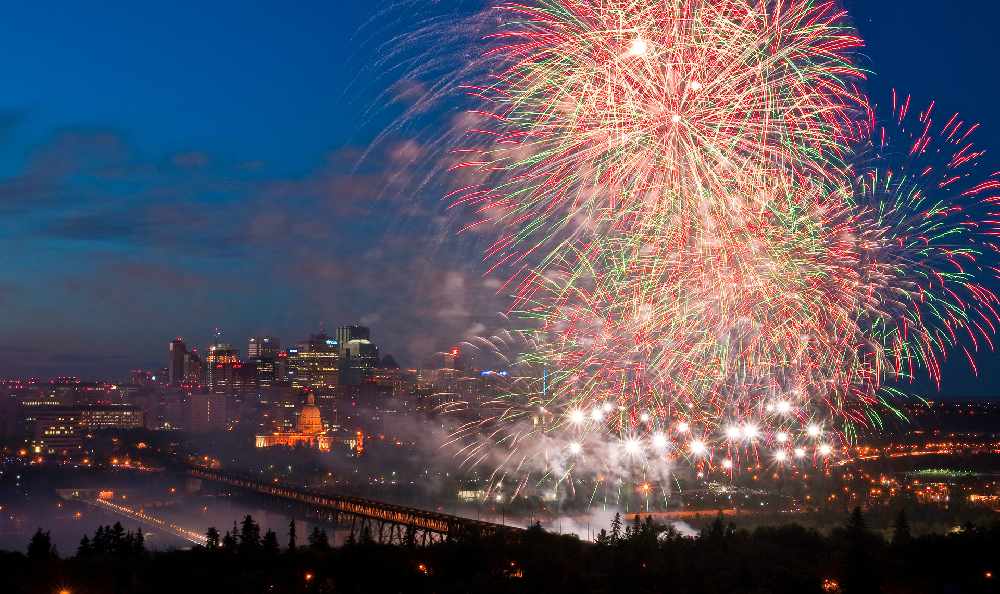 Edmonton:
The river valley by the High Level Bridge will once again be host to the city's main fireworks show starting at 11 p.m. July 1. The following roads will be accessible by foot only:
Victoria Park / River Valley Road

Walterdale Hill Road and Queen Elizabeth Park Road

109 Street between Saskatchewan Drive and High Level Bridge
If you can't make it all the way downtown, other fireworks shows include:
Mill Woods Park, 11pm
Alexander Rutherford Park, 10:45
Mission Park, St Albert, 11pm
Broadmoor Lake Park, St Alberta, 11pm
Rotary Amphitheatre, Fort Saskatchewan, 10:45pm
Four Seasons Park, Beaumont, 11pm
Jubilee Park, Spruce Grove, 11pm