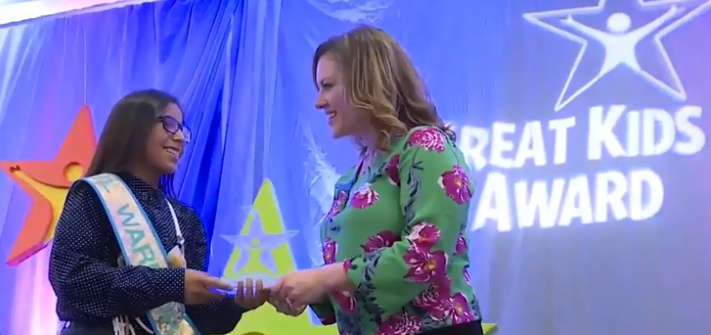 Alberta's Minister of Children Services Rebecca Schulz with Mylon McCarthur
"His hair is who we are, it's a part of us, it's his language, it's his pride."
16 recipients of the 2019 Alberta Great Kids Awards, were recognized Sunday in Edmonton. The winners were selected from a list of 112 nominees aged five to 18.
One of the recipients is 10 year old Mylon McCarthur, an Indigenous boy from Cold Lake, who was bullied for having long hair.
In 2017, Mylon, along with his mom, made a video and posted it to Facebook to bring awareness to the significance of long hair in Indigenous cultures. In the video, Mylon holds up white paper cards with words written on them for his bullies: "You do not define me. You did not beat me. I am not weak. It's OK to have long hair."
The video quickly caught on, with more than a million views since being posted.
Despite the response, Mylon still chose to cut his hair
His mom, Tiya-Marie Large, explains how the bullying affected her son.
Award winners were nominated by Family members, principals, teachers and friends.