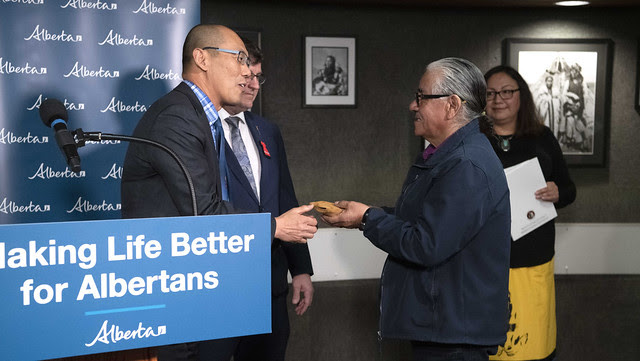 Associate Minister Luan, Brad Cardinal, executive director of Poundmaker's Lodge Treatment Centres, Indigenous Relations Minister Wilson, Elders and others came together to announce funding for 900 new addiction treatmen
Twenty-eight new beds for treating Indigenous Albertans with addictions will open at Poundmaker's Lodge Treatment Centres just outside of St. Albert, as well, the lodge will receive upgrades to five medical detox beds.
Minister Rick Wilson joined Windspeaker Radio to talk about Poundmakers Lodge Funding announcement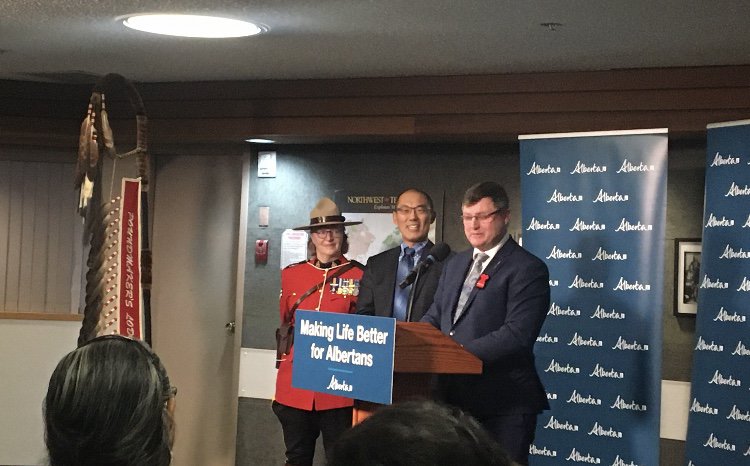 Indigenous Relations Minister Rick Wilson, during the funding announcement at Poundmakers Lodge, Dec 4

News Release, November 4, 2019
Photo: Windspeaker Radio
The province is providing $1.4 million per year to create 28 new residential addiction treatment beds and fund seven existing beds at the Iskwew Healing Lodge, equalling 900 recovery-oriented treatment spaces over the next three years.
The funding will also include the upgrading of five medically supported detox beds.
Poundmaker's Lodge Treatment Centres is a residential addiction treatment centre that blends Indigenous healing methodologies with western practices in alignment with best and wise practice standards. The centre employs Elders, addiction physicians, nurses, pharmacists, therapists, psychologists and other allied health professionals. Poundmaker's Lodge has a 46-year history of providing services to individuals from all cultures and backgrounds and serves an average of 550 clients annually.
Funding is earmarked for:
twenty-eight new treatment beds for a men's program
seven existing beds in a women's program
five medically upgraded detox beds
This initiative is part of the $140-million commitment to recovery-oriented addiction and mental health care made by the government in its election platform.
See Related Story from Windspeaker
"Over and over, I heard on my engagement tours from across the province, First Nations and Metis leaders have spoken on the need for additional treatment spaces for their people. Today, this announcement marks an important marker in our platform as well addressing Truth and Reconciliation Calls to Action. I am pleased to see this commitment from our government today."
"This increased funding will first and foremost allow us to save lives. It means increasing treatment beds, detoxification beds, shorter wait times, rapid response, increased health outcomes with a culturally based comprehensive approach to treating addictions. This government needs to be acknowledged for its commitment to UNDRIP, TRC recommendations, MMIWG recommendations and its concerted effort to addressing the opioid crisis."