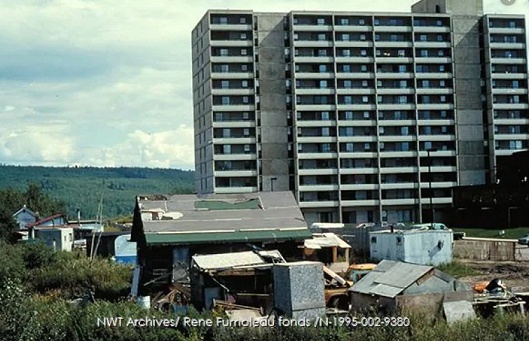 Moccasin Flats was bulldozed to make way for the apartment building in the background. (NWT Archives)
The McMurray Métis are hoping to see a land transfer be a part of the reconciliation over this past injustice.
In the late 1970's to early 80's, Indigenous residents were forced from their home along the Clearwater and Athabasca junction in Fort McMurray to help further develop the urban service area.
The area is now home to the Syncrude Towers.
On October 23, McMurray Métis CEO Bill Loutitt confronted Mayor Don Scott about the matter when the municipality hosted a sharing circle on implementing recommendations made by the Truth and Reconciliation Commission's report.
Scott was in the process of giving opening remarks when Loutitt stood up and demanded an update on a public apology and a requested 4.3-acre land transfer to build a Métis cultural centre in the area.
Moccasin Flats was a settlement for many Métis, Cree and Dene families.
In 1975, residents were notified via letter that they were to vacate their homes. The residents of Moccasin Flats were referred to as "squatters" living in a "shanty-town community" by city officials and nearby residents.
The community had lined the banks of the Snye until it was completely destroyed in 1981 to make way for developers.
In 2018, the McMurray Métis commissioned a study that examined the history and effects of the relocation. The report also included recommendations for reconciliation in including a public apology, and suggestions that the RMWB return 4.3 acres of land to the McMurray Metis, somewhere along the Snye or Clearwater River.
Mayor Don Scott says he's promising to have an update on the matter within the next 60 days.
"Our council is committed to moving forward in the spirit of reconciliation on the issue of Moccasin Flats," he said. "I am reaching out to Mr. Loutitt and the McMurray Métis Board to gather further ideas. All of my council colleagues have a strong commitment to our Indigenous partners in the region, and I support their hard work and commitment."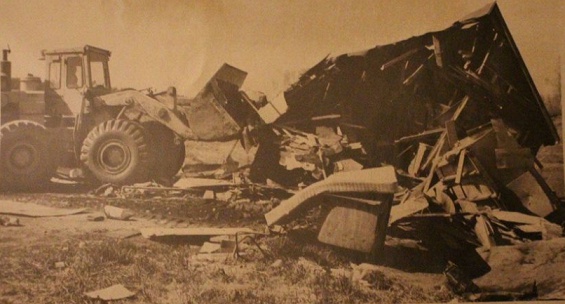 On Jan. 22, 1979, the town of Fort McMurray demolished area buildings after relocating six families, states a newspaper report in the Fort McMurray Today. Those families that remained in Moccasin Flats were evicted on May 14,1981. Photo: Fort McMurray Today