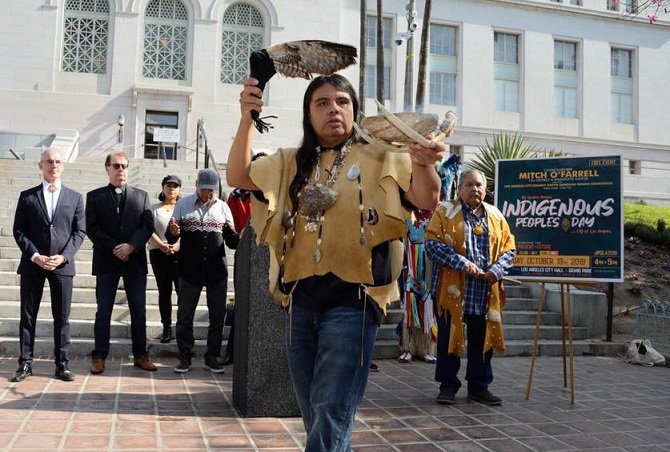 Gabrieleño Tongva Chief Anthony Morales and his son Andrew, blessing the land in advance of the City's second annual Indigenous Peoples Day celebration
"The theme this year will focus on the Past, Present, and Future, with a call to action for our state and federal lawmakers to replace Columbus Day with Indigenous Peoples Day"
The iconic Native American rock group REDBONE, who has graced the music world with such long-lasting hits as "Come and Get Your Love" is set to co-headline a concert to celebrate Indigenous Peoples' Day, Sunday October 13 at Grand Park in Los Angeles, California
Council member Mitch O'Farrell announced that the celebration will serve to shine the spotlight on the culture and traditions of the Indigenous community in California.
Also taking the stage Sunday is A Tribe Called Red, 'The Voice' finalist Brooke Simpson, MTV award winner PJ Vegas, eco-rapper Xiuhtezcatl and more.
Actor Euguene Brave Rock, from Kainai Nation in Southern Alberta, will MC the event.
Other activities planned through the weekend include a sunrise ceremony; 5K run; parade of nations; powwow; panel sessions on trending topics related to Native Americans and the community; a fashion show; and the grand finale concert.
Councilmember O'Farrell, a member of the Wyandotte Nation, led the charge to replace Columbus Day with Indigenous Peoples Day during his first term in office.
Starting at 6pm Alberta time, you can live stream the Indigenous Peoples Day concert in Los Angeles here