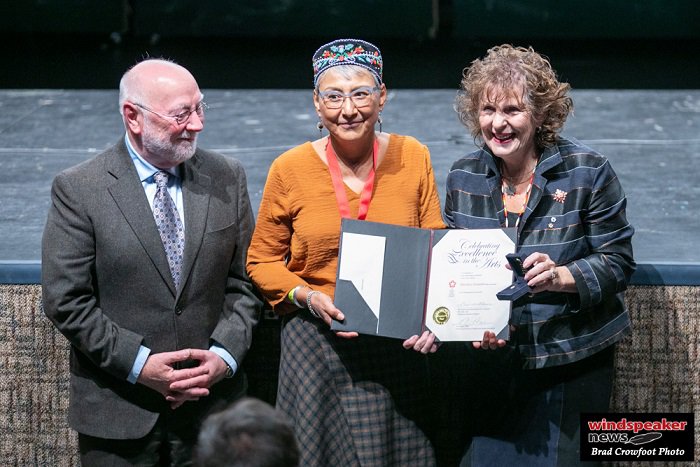 The Honorable Lois E. Mitchell with Author Michelle Dumont
"Albertans can be proud of these three whose contributions have pushed the boundaries of printmaking, abstract sculpture, and Indigenous and literary expression, and shaped development of the province's artists and arts communities"
Maskwacis, in the Battle River region, hosted the 2019 Lieutenant Governor of Alberta Distinguished Artist Awards on Sept 21, on the Samson Cree Nation-Treaty 6 lands.
The Awards Gala also marks the first time that the honor had been regionally co-planned and hosted on First Nation land.
This years award winners include Cree/Metis Poet and writer Marilyn Dumont, who lives in Edmonton.
Her first collection of poetry, A Really Good Brown Girl, won the 1997 Gerald Lampert Memorial Award from the League of Canadian Poets.
Dumont joined Windspeaker Radio
Dumont also shared the stage with two other award recipients, Edmonton printmaker Walter Jule and Calgary abstract artist Katie Ohe.
Lt.-Gov. Lois Mitchell presented the awards at Nipisihikopahk Secondary School.
On Sept 20, Samson Cree Nation also hosted a historic Buffalo Treaty Celebration, with Signings from Chiefs. The Buffalo Treaty brings together Nations on both sides of the border to work on bringing back buffalo on their territories.
Lt.-Gov. Lois Mitchell talks about the many positive things happening on the Samson Cree Nation