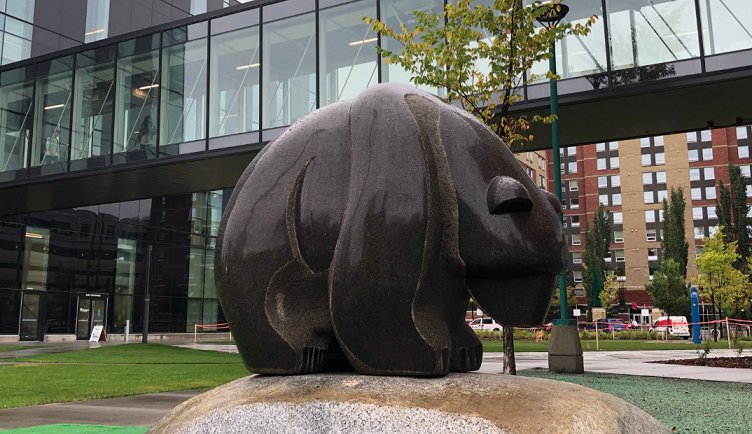 "Mother Bear Prays for Earth Healing" Sculpture (Photo: MacEwan University)
"It reminds us that the land on which we stand has history to Indigenous people, that treaty is a living relational agreement and that the spirit and intent of the treaty is based on peace and friendship
MacEwan University has permanently installed a Treaty 6 marker on the grounds of City Centre Campus in amiskwacîwâskahikan (Edmonton).
The sculpture, entitled Mother Bear Prays for Earth Healing is inscribed with the words "We are all related." Terri Suntjens, kâ-nêkânêstahk iyiniw pamihtamowina – director of Indigenous initiatives, says that the sculpture and the inscription represents our responsibility to the land, all living things and each other.
At the unveiling ceremony, Acting President John McGrath spoke about the university's commitment to building good relationships with Indigenous peoples. "This treaty marker reflects our university's commitment to truth and reconciliation, and to creating space for Indigenous voices," he said. "This involves redressing the legacy of residential schools, and facilitating the inclusion of Indigenous students, staff and faculty in advanced education."
The sculpture was created by Stewart Steinhauer, a sculptor from the Saddle Lake Cree Nation who has been carving stone for more than 40 years. It was carved over a two-year period from granite quarried in Magpie, QC, on the north shore of the St. Lawrence River.
The base of the sculpture is a granite boulder from the Creston Valley, at the south end of Lake Kootenay.

Sculptor Stewart Steinhauer (far right) and staff from the kihêw waciston Indigenous Centre with the Treaty Marker sculpture, Mother Bear Prays for Earth Healing. (Photo: MacEwan University)