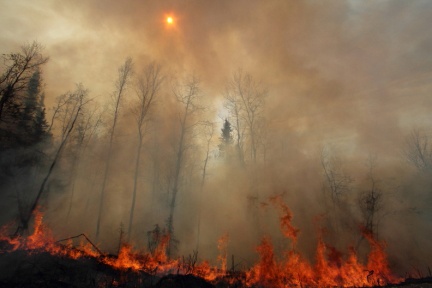 The wildfire began near the community of Wabasca and grew to the point where it forced the evacuation of Wabasca and Peerless Trout First Nation, while it also threatened communities in the Slave Lake area.
Alberta RCMP have determined that arson was the cause of the McMillan wildfire in May that threatened remote communities in north-central Alberta and torched 2,730 square kilometres of forest.
RCMP and Alberta government officials say they are now looking for witnesses who may have seen the person responsible.
Members of the public with information regarding the details of this wildfire or other fires in the area are encouraged to call toll free at 1-833-999-FIRE (3473).
The McMillan wildfire was started northeast of Slave Lake near the community of Wabasca at around 2 p.m. on Saturday, May 18. The fire blazed for more than a month, leading to the evacuations of Wabasca and the Peerless Trout First Nation before crews brought it under control on July 1.
It took until July 1 for firefighters to get the 273,000 hectare blaze under control