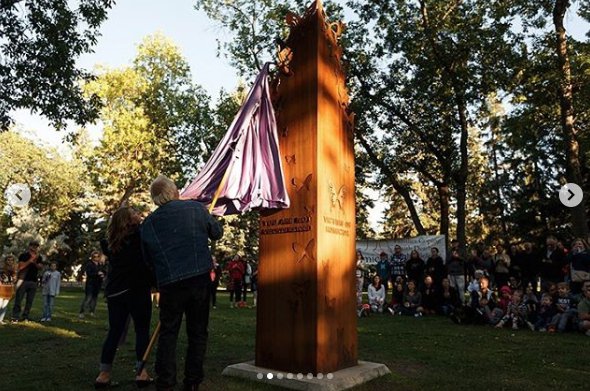 The Victims of Homicide Memorial sculpture by Edmonton sculptor Paul Toal is unveiled at Borden Park on Aug. 28
An unknown family who lost their daughter to violence, paid for the sculpture to be built.
The families of victims of homicide have a new place to sit and reflect on their lost loved ones as a sculpture adorned with butterflies and words of inclusion and understanding was unveiled in Borden Park.
The roughly 15 foot sculpture was built by local artist Paul Toal. It weighs about 1,300 pounds and is made of steel meant to rust and change colour depending on the weather.
Each side of the memorial also shows a message of acceptance and understanding: "You are not judged, you are not alone, and you are not misunderstood."
Some in attendance cried and held each other as the memorial was unveiled. It was then blessed by a Reverend and a song about loss to homicide was played.