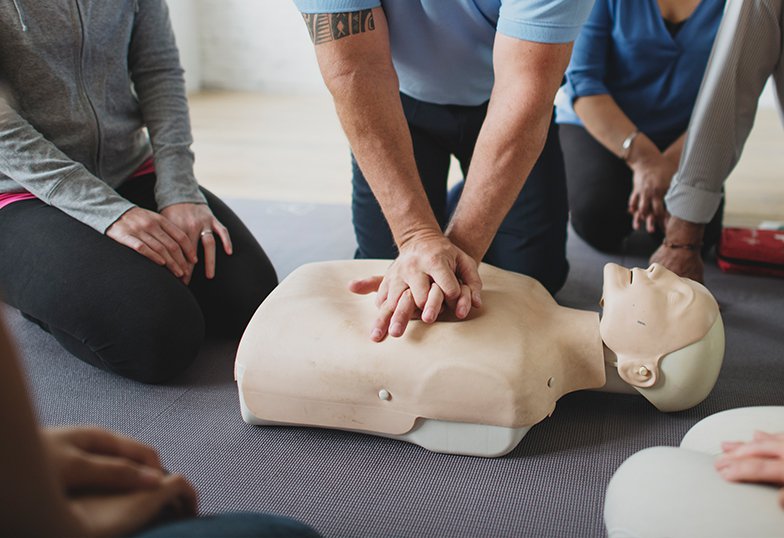 This November, be the somebody who saves a life
ATSAFETY TRAINING Inc. currently offers three (3) first aid course options in Alberta: Emergency First Aid (One-Day Course), Standard First Aid Level A (Two-Day Course) or Standard First Aid Level C (Two-Day Course).
Details here
If you witnessed a family member in cardiac arrest, would you know what to do?
Although the majority of Canadians say they would recognize the signs if someone were experiencing a heart attack or another cardiac emergency, fewer than half say they have the skills to help in this common and life-threatening emergency.
November is CPR Month and the Canadian Red Cross challenges everyone to get the training they need to help save a life. Effective bystander CPR, when used in conjunction with an AED and administered immediately following cardiac arrest, can double a person's chance of survival.
More than 50,000 Canadians die of heart disease every year.
Nearly 60 per cent of Canadians who have had to perform first aid did so to help a family member.
Canadians who have taken a first aid course are considerably more confident in their skills to be able to help someone experiencing a medical emergency.
Red Cross CPR courses also include training on the use of automated external defibrillators (AEDs): how to assess a person in cardiac arrest, determine whether defibrillation (a shock to the heart to restore normal beating) should be performed, and use an AED unit to deliver a shock if required.
The Red Cross is the only national training agency to include AED training as a mandatory component in all our programs
CPR STEPS
1. Make sure casualty is on a firm flat surface.
2. Place hands on centre of chest.
3. Position shoulders directly over hands and keep elbows locked.
4. Compress 30 times. Push hard - Push fast
5. Pinch nose and make a tight seal over the mouth.
6. Give 2 breaths.
7. Continue cycles of 30 compressions and 2 breaths until help arrives or an AED is available.
If you are untrained or unsure of your skills - don't give up! Give compressions only CPR - pushing hard and fast at a rate of at least 100 times each minute.