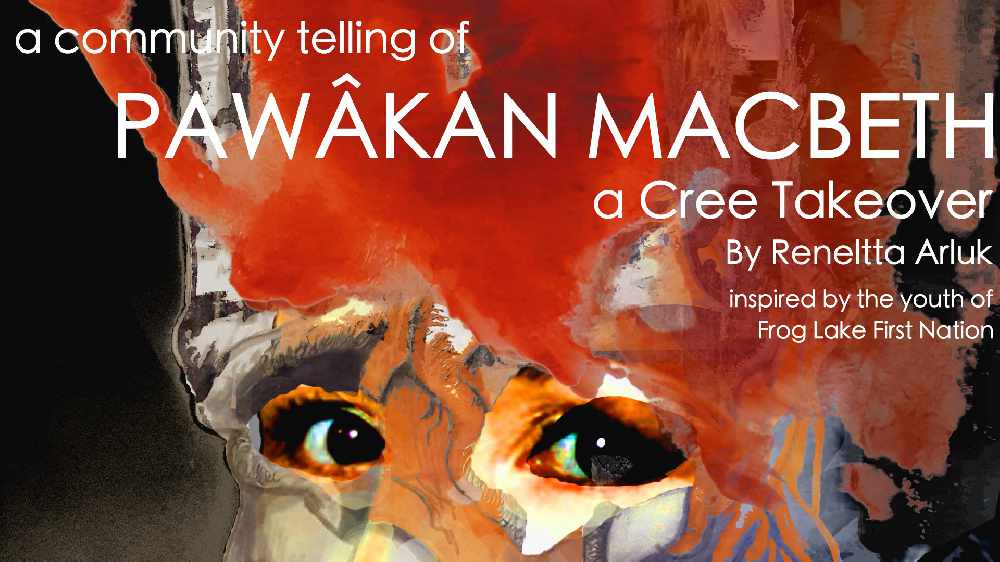 "First Nations schools in Alberta are required to learn Shakespeare as part of their English curriculum, the inspiration of taking over Macbeth was to offer Indigenous youth a First Nations perspective of the play that lessens the language barrier and heightens the story"
Indigenous Playwright Reneltta Arluk joined Windspeaker Radio's Morning show to promote Pawâkan Macbeth
This take over by Indigenous playwright Reneltta Arluk, sets Pawâkan Macbeth in Cree territory in 1870s Alberta, where Macbeth is the cannibal spirit, Wihtiko.
Inspired by the youth of Frog Lake First Nation, Pawâkan Macbeth happens before the numbered Treaties were signed, when Plains Cree were allied with Stoney Nakoda, and at war with Blackfoot over territory, food, supplies and trade.
The Canadian Government were making their way west with Sir John A. MacDonald as its leader. Harsh environments brought immense fear, starvation, and uncertainty together to awaken the darkest of Cree spirits, the Wihtiko – a being with an insatiable greed.
Through the exploration of Cree language, history, stories and cosmology Arluk asks, what is it to be human? What makes a human vulnerable to the Wihtiko?
Inspired by working with the youth of Frog Lake First Nation, and shared stories from Elders in the Treaty 6 region, Arluk has created a terrifying journey through love, greed, honour and betrayal, with coyote howlers teaching us that resurgence requires balance.
TREATY 6 PERFORMANCE DATES - all shows are FREE:
Jan 27 - 1:00pm - Maskwacis - Nipisihkopahk Secondary School
Jan 28 - 5:00pm - Saddle Lake First Nation - Kihew Asiniy Education Centre
Jan 29 - 10:30am - Saddle Lake First Nation - Kihew Asiniy Education Centre
Jan 30 - 12:45pm and 5:00pm - Kehewin First Nation - Kehewin Community Education Centre
Jan 31 - 12:45pm - Frog Lake First Nation - Chief Napeweaw School
Feb 1 - 5:00pm - Frog Lake First Nation - Chief Napeweaw School