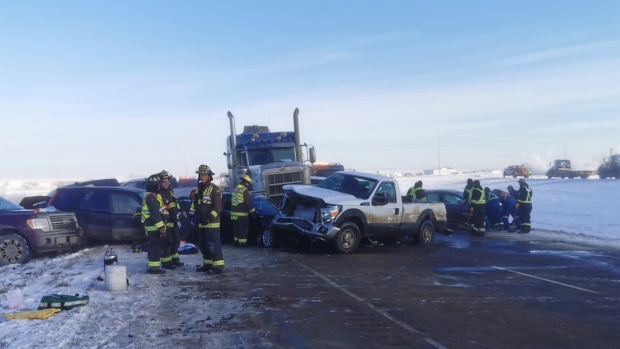 Photo courtesy Pancho Driedger
RCMP officers will continue to investigate and no charges have been laid
A highway north of Grande Prairie was shut down following a horrific 16 car collision, with some of the people involved calling the crash "traumatizing".
According to RCMP the collision occurred in the southbound lanes of Highway 2, north of Emerson Trail. Both lanes were shut down for hours but have since re-opened with heavy traffic volume.
29 people were treated, with 26 of them being sent to hospital, 6 in non life threatening conditions and 20 with minor injuries.
Police said the weather and road conditions were factors in the collisions as thick, heavy fog reduced visibility along the icy roads.
RCMP will continue to investigate the crash.