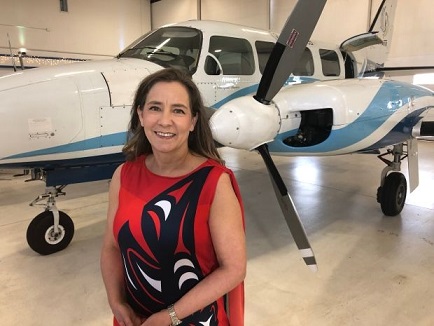 "It fills my heart with gratitude to be honoured along side such amazing change makers. I am humbled and inspired by the matriarchs in my world — blessed to witness and learn from their incredible stories of strength, wisdom, warriorship, resilience, courage, humanness, hope and love,"
A woman whose family is from Fort Chipewyan has been named one of Canada's most powerful women of 2019.
On Wednesday, the Women's Executive Network announced Teara Fraser, CEO and Founder of Iskew Air, as an influential women in Canada.
Fraser is the first Indigenous woman to own a commercial airline in Canada and has also created a wellness institute in British Columbia that combines Indigenous and Western practices to develop people and their communities.
As a single mother in her thirties, Teara discovered a passion for flight. She decided to become a pilot and blew open the doors to her dreams!
She was named in the Trailblazers and Trendsetters Award category, recognized for her achievement of launching her own airline.
The list of the Top 100 chosen pays tribute to outstanding women across Canada who advocate for diversity in the workforce and inspire the next generation of leaders.