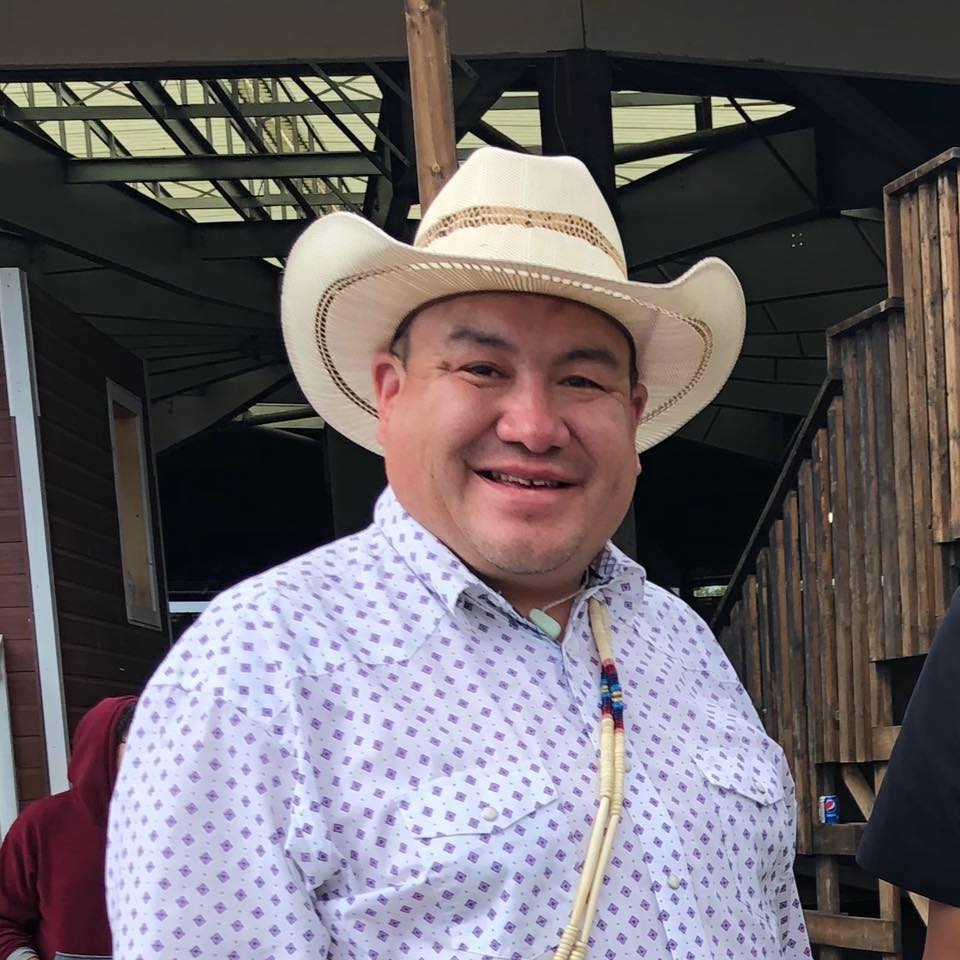 Photo: Jason Goodstriker, Facebook
"It is with great sadness that I share with all of our friends that Jason has begun his journey to the spirit world.... Travel well my love" - Tiffany Goodstriker
Lowa Beebe shares her thoughts about the passing of Jason Goodstriker
Traves Meguinis speaks with Windspeaker Radio
A highly respected member of the Blood Tribe has died.
Jason Goodstriker was a councillor with the Blood Tribe and was a former Alberta Regional Chief for the Assembly of First Nations.
He was most recently named as a member of the Fair Deal Panel by Premier Jason Kenney, which has been holding town hall meetings around the province to consult Albertans on how to secure a fair deal in Canadian federation.
Goodstriker, who leaves behind a wife, children and many loved ones, is being remembered as "the voice of Indigenous gatherings, powwows and celebrations" in both Canada and the U.S., who brought communities together.
In a statement Thursday, Kenney expressed shock and dismay at the passing of Goodstriker
No dates have yet be announced for funeral services.
Statement from Alberta Premier, Jason Kenney
"I am shocked at the terribly sad news of the untimely death of my friend Jason Goodstriker"
"Jason was a proud member of the Kainai band of the Blackfoot people. He served as band councillor, and was elected as Alberta Regional Chief for the Assembly of First Nations.
"He was a passionate Albertan, serving most recently on the Fair Deal Panel. He told me that he was energized by the opportunity to listen to Albertans across the province, and to tackle important issues about Alberta's role in Confederation.
"Jason had a huge heart. He brought joy everywhere he went. He was devoted to his community, and was a loving husband to Tiffany and father to their children.
"He was proud to work in the oil and gas industry, and to fight for Indigenous people to benefit fully from the development of our natural resources.
"I was proud to call Jason a friend since we attended high school together at Notre Dame College in Saskatchewan. He will be greatly missed by so many."
Statement from Alberta's Indigenous Relations Minister, Rick Wilson
"We have lost an extraordinary person in Jason Goodstriker.
"He was the sort of person who left a strong impression on me and others around him with his generosity, sharp mind and easy laugh.
"These were the tools he used to serve the Kainai Nation (Blood Tribe) as a band councillor in the early 2000s before his election as Alberta's Regional Chief for the Assembly of First Nations.
"Jason took on responsibilities like these with a deep commitment to fairness and transparency. He was the first band councillor to publish the band's financials in the Lethbridge Herald, and it was work like this that caught the attention of the Native Nations Institute and the Harvard Project on American Indian Economic Development.
"Many remember him as the voice of Indigenous gatherings, powwows and celebrations throughout Canada and the United States, yet another way he helped to bring together community.
"My heart goes out to his wife Tiffany, his children, his loved ones and his communities in their sorrow."