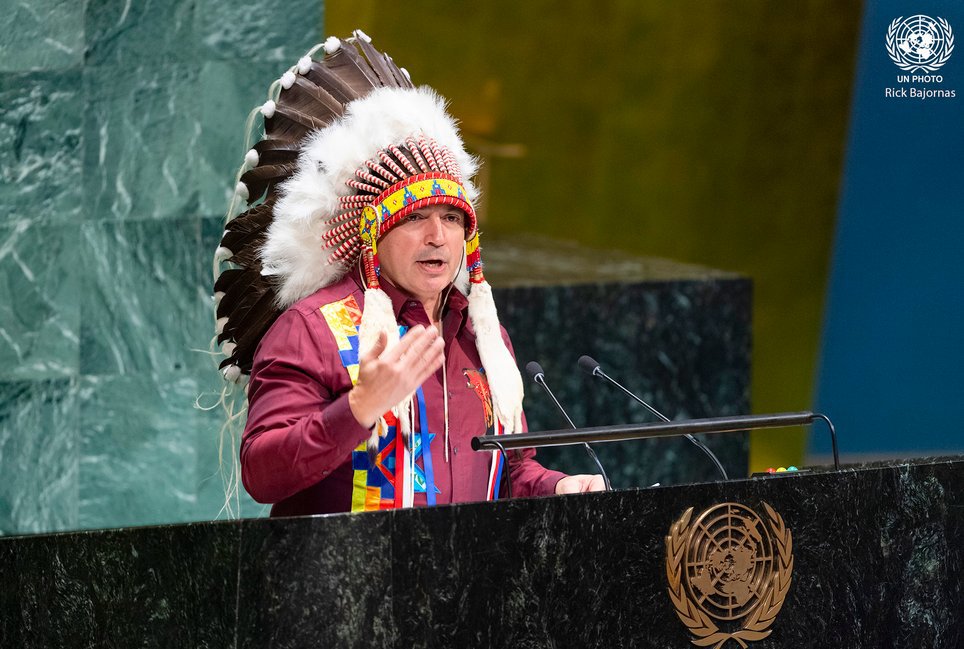 "There is a very real danger that our Indigenous languages will not survive another century. For our languages to survive they must be taught ... Work with us to help bring Indigenous languages back from the brink of destruction."
Assembly of First Nations National Chief Perry Bellegarde addressed the United Nations General Assembly in New York City on Tuesday, and spoke forcefully about the need to protect, reclaim, and revitalize Indigenous languages.
Bellegarde also told leaders that language is a fundamental human right and said fewer than one in five Indigenous people in Canada can hold a conversation in their traditional language.
He said because language is so closely tied to Indigenous culture, many First Nations, Métis and Inuit feel isolated and lacking a "vital connection to their ancestors."
2019 was proclaimed the International Year of Indigenous Languages by the UN General Assembly in 2016.
The UN Declaration on the Rights of Indigenous Peoples, endorsed by Canada, recognizes the rights of Indigenous peoples to revitalize, use, protect, preserve and transmit their histories, languages and oral traditions to future generations, and further grants the right to Indigenous peoples to establish media and educational systems in their own languages.
There are more than 70 Indigenous languages across 12 language groups currently spoken in Canada, according to Statistics Canada. In 2016, an estimated 260,550 people in Canada were speaking their Indigenous language. The overall number of Indigenous language speakers has grown by 3.1 per cent in the last 10 years, according to the 2016 census by Statistics Canada.
The National Chief said the number of Indigenous language speakers is now starting to "slowly, slowly" grow again, but more action is needed to repair the damage done by residential schools, where English and French were forced on Indigenous students.
Before the traditional opening started it was announced there'll be an International Decade of Indigenous Languages that will begin in 2022.