Dawn Madahbee Leach, General Manager at Waubetek Business Development Corporation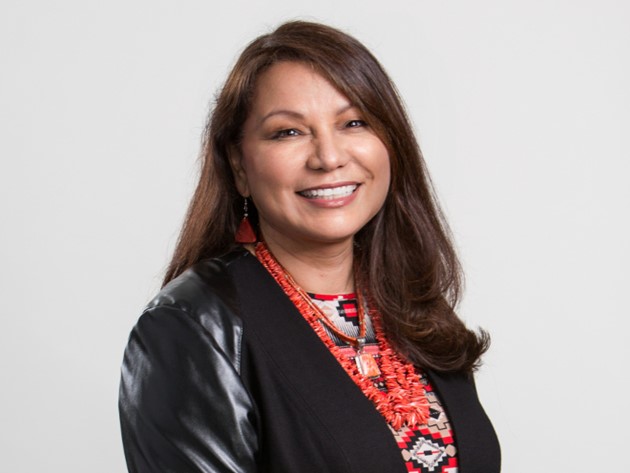 In regards to leadership, Dawn Madahbee Leach says that it's really important for each generation to realize that we're all playing a role in advancing our people. "We should recognize that each generation before us has raised us up and have helped us to progress in some way or another."
She is also happy to see that Indigenous women are leading the way in Finance, Accounting, and Banking. "We've got to remember that a generation ago, very few of our people were able to get credit. They weren't able to get a loan in their own name, and doors just weren't open for them. Now we have financial institutions that are run by our own people who are there to help our communities. Indigenous women are playing a large role in this."
But Madahbee Leach also recognizes the sacrifices a leader has to make. Limited time with family, limited time in participating in ceremonies, and sometimes even health can become a low priority when you're busy being a leader. But it's important to build a network of support, whether it's family, a circle of elders, friends, or co-workers. Having support can help mitigate some of those sacrifices.
Leaders should also stay grounded, always be thankful that they were put into that position, and to remember that they aren't higher than any one else. Leaders are actually the hard workers that try to make things different and better for their people. "It's important to balance all of that with being a leader and to always seek the guidance of the Creator in everything we do."
Dawn Madahbee Leach believes that women bring a balanced approach and perspective to all issues Indigenous people are trying to address. "In our traditional ways, women always had a strong leadership role and we know that some of that was lost through colonialism. But it's important that we regain leadership and recognize it," she said.
"I think people need to realize that for us to go forward as a people, we need to have gender equality and go back to our roots. Remember that it's about balance, the circle of life, and the medicine wheel. To keep that balance, we need the full involvement of Indigenous women."
Madahbee Leach's hard work earned her recognition as one of Canada's 100 Most Powerful Women by the Women's Executive Network and through this, she provides mentorship to young women. She is also often asked by colleges and universities to mentor young people, especially Indigenous youth.
Waubetek Business Development Corporation, where Madahbee Leach is the General Manager, also delivers Youth Sessions. "I really enjoy being able to speak to the young people," she said. "I talk to our young women and encourage them to be independent through education and by developing a career. It's important for our women to gain that knowledge. It helps people with street smarts as well, to lower the risk of our women becoming victims."
"Education and focusing on a career helps our women to become independent and able to be more knowledgeable about the world around them. In our youth sessions, I also speak to the young men about their traditional role as protectors. It's so important that they understand that. We need to work together in balance to make progress for our people."
Dawn Madahbee Leach notes that there are a higher number of Indigenous women with post-secondary degrees than Indigenous me, but it's still lower than the Canadian average. "In today's world, education is such an important part to advancing our people. We know that women are the first teachers of children so it really helps if our women are educated."
"It's important for Indigenous women to stay on the education path, it will make a difference to our people going forward in advancing," she said. "I believe each generation advances our people more and more, and I see a bright future for all Indigenous people when we support Indigenous women. I really hope the number of Indigenous people in business grows, and I want to see the number of Indigenous post-secondary graduates increase as well. I think it'll make a huge difference to our future."