Sandra Sutter, executive director of the Circle for Aboriginal Relations Society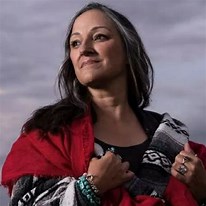 Sandra Sutter is a Calgary-based singer songwriter. She serves as executive director of the Circle for Aboriginal Relations Society. Sandra is inspired by her Indigenous Cree-Metis heritage.
"Leadership evolves," said Sutter. One of things she says she's been taught about leadership is to find balance.
"We are all leaders in our own way. We all have people that we follow. We all have people that follow us. So my Elders have taught me to recognize the balance of male and female in all of our activities. We see it in nature, and we see it more and more coming back to Indigenous communities.
"It was always part of who we were, and it is part of who we are. And more and more we are reclaiming that way of living as we evolve in our own lives and in our participation on Turtle Island."
There are sacrifices that come with leadership, and that means having less time for family and friends. And it also means having little time for things other than the passions that she has—"creating opportunity for our people."
Leadership by women means the ability to continue life as humans on the planet, said Sutter.
"We'll see more integration of compassion and empathy and vulnerability within our work environments, within the environments that guide communities, and industry and governments."
Sutter believe women leaders have a role to play in mentoring others, and that requires walking your own talk and being sure to lead by example, including in the choices that are made and how your life is lived.
It might require a certain vulnerability and a sacrifice of personal privacy for the greater good of the broader community.
She says it's important to her to develop one-on-one relationships with young people so they feel supported to be who they know they are, "and to be reminded of who they are."
Sutter says she's been fortunate to have many mentors. Among them, her mom, an artist who quietly encouraged everyone around her to pursue their own interests.
"She also had a gang of women that she hung out with who were very progressive in their thinking, so I got to grow up with those women showing me that they could be individuals with different interests, always putting their family first."
Her own family has encouraged her, uncomplainingly, in the pursuit of her own individual interests and passions, she said.
"They're very supportive and I'm really lucky."
Sutter believes, as we move forward through the 21 century, women are going to reclaim their strength.
"We already are. And we're not going to be the people who become vulnerable to predators.
"We're going to be the women who stand up and are supported by our men to be everything that we have been historically, and everything that we can imagine."
Society evolves to be more matrilineal in nature. "And I think that will benefit all of us."